The Kitchen is an American cooking-themed talk show that airs on Food Network. The series is presented by Food Network chefs Sunny Anderson (Cooking for Real) and Jeff Mauro (Sandwich King) as well as chef Katie Lee, Iron Chef Geoffrey Zakarian and Iron Chef Alex Guarnaschelli. The series premiered on January 4, 2014.

On February 20, 2014, it was announced that the series had been renewed for a second season, which began airing on April 19, 2014. The series is currently in its twenty seventh season, which began airing on January 2, 2021. Marcela Valladolid announced her departure from the show on October 18, 2017 citing desire to focus on family.



The Kitchen Co-Hosts
Geoffrey Zakarian Bio

Geoffrey Zakarian, a master of modern American cuisine, has presided over some of the country's top kitchens in the past 25 years. He opened two New York City restaurants, Town and Country, both of which received three stars from The New York Times. Currently, Geoffrey is chef/partner at The Lambs Club and The National in New York City as well as The National in Connecticut and The Water Club at Borgata in Atlantic City. His two newest concepts, Point Royal and Counter Point, are located inside The Diplomat Beach Resort in Hollywood, FL. He also helms The Garden Bar and Georgie, both located in Los Angeles within Montage Beverly Hills.
Outside of his restaurant ventures, Geoffrey's cookbook, Town/Country: 150 Recipes for Life Around the Table, was widely acclaimed when released, and his second cookbook, My Perfect Pantry: 150 Easy Recipes from 50 Essential Ingredients, was published by Clarkson Potter in Fall 2014. Geoffrey is also the host of Sirius XM's Food Talk radio show, which premiered at the 2013 South Beach Wine and Food Festival. He has partnered with Norwegian Cruise Line in a three-restaurant deal aboard its newest, most-luxurious ship, Norwegian Breakaway, set sail in May 2013. Geoffrey also brought these concepts aboard Norwegian Cruise Line's Norwegian Getaway in 2014. In August 2013, he was named culinary director at The Plaza, New York City's most-iconic hotel. He oversees The Palm Court, The Oak Room & The Oak Bar, The Rose Club, The Champagne Bar and In-Room Dining. Geoffrey is an Iron Chef, having won the title in The Next Iron Chef: Super Chefs in 2011. He is a regular judge on Chopped and has also appeared on The Best Thing I Ever Ate and 24-Hour Restaurant Battle on Food Network. He also is a co-host on The Kitchen.For more information on Geoffrey Zakarian or his restaurants and television appearances, please visit www.geoffreyzakarian.com.

Jeff Mauro Bio



Born in Chicago, Jeff Mauro was a ham on a roll from the very beginning. Raised in a large family with four kids, he competed for attention not by making his sisters cry, but by making his family laugh. Jeff's flair for the stage was discovered early, and from that point on, he immersed himself in the performing arts. When Jeff discovered the power of food, all bets were off. After graduating from Bradley University in Peoria, Ill., he opened up Prime Time Deli & Catering in Westmont, Ill., with his cousin and instantly fell in love with cooking. During the day, Jeff would craft sandwiches, soups and salads; at night, he satisfied his performing bug playing the role of Tony in Chicago's Tony and Tina's Wedding. With his professional cooking knowledge and his acting and improvisation skills polished, he moved to Los Angeles in an attempt to meld his two loves — cooking and comedy. After a few years in Hollywood, he upped the ante and enrolled in the Le Cordon Bleu culinary program to refine his cooking skills. Jeff graduated valedictorian, packed and returned to Chicago, where he taught cooking lessons, was a successful private corporate chef and sandwich artist, and performed on stage during the weekends. He won Season 7 of Food Network Star and is the host of the Emmy-nominated series Sandwich King. He's also a co-host on The Kitchen. Jeff lives in Chicago with his wife, Sarah, and their son, Lorenzo, and Jeff's favorite color is pastrami.


Katie Lee Bio

For Katie Lee, cooking wasn't just a hobby growing up — it was a way of life. Raised in a modest, tight-knit West Virginia family, each evening centered around the dinner menu. Eager to get involved, Katie began cooking at the tender age of 4 under the guidance of her mentor Grandma Dora. Using fresh vegetables from her grandpa's garden and meat from the family's cattle and pig farms, Katie quickly learned the value of seasonal ingredients. Katie's first cookbook, The Comfort Table, was released in 2008, soon followed by The Comfort Table: Recipes for Everyday Occasions (2009) and Endless Summer Cookbook (2015). In addition to her comfort food cookbooks, she writes a column for SELF and published her first novel, Groundswell, in 2011. Outside of her culinary and literary adventures, Katie sits on the Celebrity Board for Feeding America. When not working or volunteering, she enjoys surfing, traveling and playing with her dog, Gus. She resides in the Hamptons.


Sunny Anderson Bio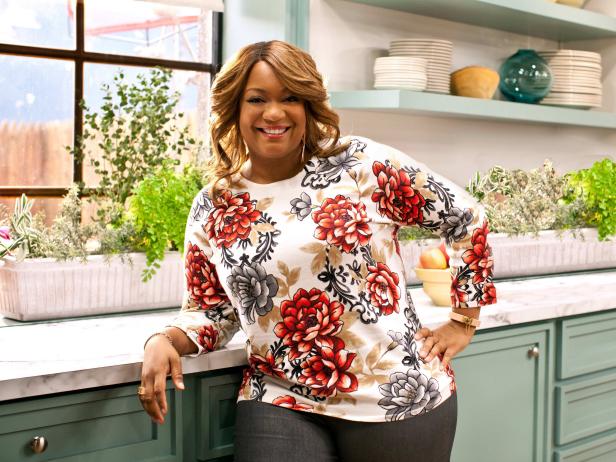 While Sunny grew up traveling the world as an Army brat, her parents always encouraged her to indulge in the local cuisine. When she joined the Air Force as a radio broadcaster and journalist, she continued her trek through the world for news stories while indulging in culinary finds along the way. After leaving the Air Force as an award-winning broadcaster, she continued her travels as a radio DJ in many cities, culminating in her dream job in New York at a No. 1 rated radio station. There, she began cooking for her friends in the entertainment business and turned her hobby and growing client list into a catering company. That led to a guest appearance on Food Network's Emeril Live! in 2005, and shortly after, she left her radio career and closed her catering business to focus on chasing yet another dream: sharing her recipes with the Food Network audience. Her first show, Gotta Get It, a food gadget show, premiered in 2007, followed by Cooking for Real, How'd That Get On My Plate and Home Made in America with Sunny Anderson. She's currently a co-host on The Kitchen. Her cooking style combines classic comfort foods along with unique flavors inspired by her many travels. With an understanding of everyday life and the belief that real people deserve down-to-earth, delicious meals, Sunny offers real food for real life. In September 2013, she released her New York Times best-selling debut cookbook, Sunny's Kitchen: Easy Food for Real Life (Clarkson Potter). Sunny lives in Sunset Park, Brooklyn, with her rescue pets.

The Kitchen Show
The Kitchen Show Season 30 Watch Online